Almost monthly, Google shares an education focused newsletter. You can view past issues by browsing to https://inthecloud.withgoogle.com/gfe-newsletters-na/northam-repository.html
Below are some resources called out in two of their summer newsletters:
Arts & Culture: Explore UNESCO World Heritage
For World Heritage Day, Google Arts & Culture released a new, updated destination for people to explore UNESCO World Heritage sites online, featuring hundreds of expert stories and thousands of images and videos.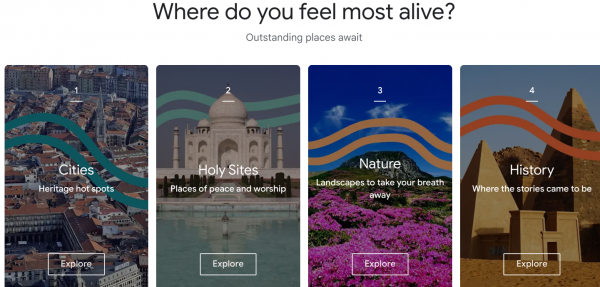 Arts & Culture: Calling in our Corals
Take part in the preservation of coral reefs from your desk and learn to identify underwater sounds with marine biologists whilst contributing to vital research.

Arts & Culture: Step inside 3D exhibitions from around the world
Step into a diverse range of 3D immersive exhibitions curated by 50+ cultural institutions around the world, ranging from artist retrospectives to collections that are not publicly visible and to nature inspired galleries.

Arts & Culture: Try 4 new Arts and AI experiments
A new series of AI and Art experiences uses Google AI Image Generation Research to inspire cultural discovery and learning through play

New artistic data visualizations highlights hidden environmental effects
"Seeing the Invisible" explores four invisible environmental issues with in a new experiment on Google Arts & Culture in collaboration with artist Cristina Tarquini and the World Health Organisation

Teach CS First with help from Cobblestone and Google engineers
Our partners at Cobblestone will be livestreaming weekly lessons throughout the school year to help you teach a CS First lesson alongside Google software developers. It's free, and lessons include ideas for both teachers and students to learn new skills!