All K-12 instructional staff that have been issued (by the technology department) and now have a district Windows laptop (HP Probook G1 through G5 models) will exchange it for a new Windows laptop beginning in March.
Arrangements will be made for when staff members will receive their new devices and turn in their existing ones.
[Note, those district staff who have been issued and now have district Chromebooks will also be exchanging them in the March/April, in most cases, for new district Chromebooks.]
No, unfortunately we are not in a position to sell you your laptop. We are prohibited from selling this equipment due to bond restrictions. As it stands, all reissuable HP ProBooks will be repurposed within the district.
The new laptops have a slimmer form factor. Due to the bigger connectors such as the ethernet cord can be somewhat difficult to remove.
When removing the ethernet cord, please remember to press upon the spring that is located under the cord (See picture), and then pull the cord out.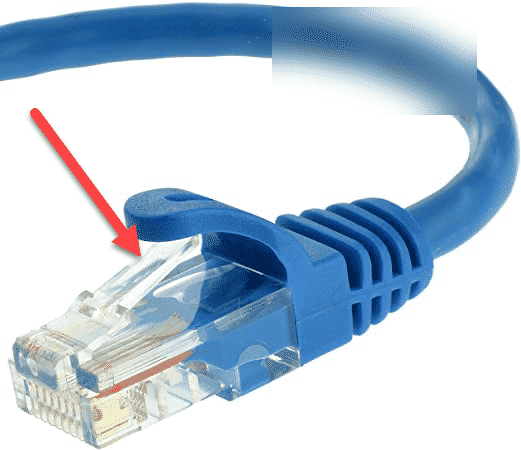 Because of the slim form factor more than likely you will need to pull the cord out with a good bit of force while holding the spring in.
To install Microsoft Office 365 on the Dell laptop, you will do so via the Company Portal. Please review the installation steps outlined in these linked visual directions.
Depending on your role (ie nurses), our department might work with you to install additional safeguards such as BitLocker to further protect the data on the laptops. As a reminder, please keep your laptop safe at all times and implement features such as invoking password protection within a short time of inactivity or when the screen is closed to reduce the risk of student information being accessed or stolen.
Please submit a service ticket for assistance with the re-installation of overage purchased software. Please be sure to include documentation of the overage purchase so that we can help with the retrieval of licensing information.
If you are slated to be issued a new Dell laptop, yes, you are expected to exchange even a recently issued HP replacement laptop.  Staff, regardless of the HP ProBook they might have been issued, and even if recently issued a replacement HP laptop, are to exchange that laptop for our newest Dell laptop model, if identified to receive a new one. Standardizing our deployed fleet in this fashion is being done for support and maintenance purposes.
LanSchool can be run on your new laptop. Please following the directions found here to locate, install and set it up.
The technology department respectfully requests everyone's cooperation as the logistics of device issuance and exchange involving over 1200 staffers is a daunting undertaking. Staff should be ready to exchange their current equipment for a new laptop on the day their building is scheduled. If they are not ready or are absent on their scheduled day, they are not able to turn in their device at another location and there is no makeup day per se for any building.  During a limited time window, in April, after our department has completed scheduled issuance for all cohorts across the district, we will be in a position to circle back to those who, for various reasons, missed the exchange when it was initially scheduled for them. We appreciate everyone's cooperation to minimize the time that needs to be spent on deployment.
There are many external USB CD/DVD optical drives, and some will invariably come up for sale on Black Friday, Cyber Monday or around certain holidays. Ditto for standalone Blu-Ray and DVD players (we are not providing links for those).
For those who have requested links to possible inexpensive drives for consideration, here are three (our department makes no claims on their usability, but their specs suggest they will work as expected; the first drive link listed below has been confirmed to work with the new Dell 3520s):
No. This laptop, like most other new laptops released in the last two years, does not have a VGA port. If you are currently utilizing a second monitor with a VGA port, you might need to purchase an HDMI to VGA adapter. Although the district/department is not providing nor underwriting the purchase of HDMI to VGA adapters (excepting for a small number in support of the loaner monitors provided to each building) adapters selling for under $10 such as this one from Amazon can facilitate continued VGA usage if desired. [Likewise, there are also USB-C to VGA adapters that can be purchased such as this one from Amazon to facilitate continued VGA usage if desired (note, when using the USB-C port with an adapter just for display purposes, charging at the same time is not possible). If looking to use a VGA/HDMI monitor and also display to a projector or interactive flat panel this USB-C hub from Amazon has been confirmed to work, and as a bonus, it also allows for a pass through for power to the laptop ]
For license retention purposes, we suggest you uninstall any licensed software you personally installed on the HP ProBook.
Please bring your current laptop and charging cord. You can keep your existing laptop bag.
Laptops should be prepared to accommodate teachers with special software needs. Please confirm with your supervisor that special software needs have been communicated to the technology department.
We apologize for the inconvenience, but you must turn in your existing laptop and exchange it for the new staff laptop. The new staff laptops were purchased using grant funds that require them to be issued within a specific time frame. Additionally, standardizing our deployed fleet is being done for support and maintenance purposes. Staff have already been informed to
back up files on their existing laptops
and we expect them to exchange their laptops on their scheduled exchange date.
Dell Latitude 3520, with an 11th Generation Intel Core i5 processor, 8GB RAM, 256GB Solid State Drive, and 15.6″ screen. The new instructional staff laptops will have the Windows 10 Pro operating system installed on them.
Yes. Both Windows laptops and Chromebooks being returned to the technology department will be erased and wiped of all accounts and accompanying information. Our reimaging process will delete and overwrite any files and/or folders you may have created on the laptop, so be sure to make a backup (save to the cloud or flash drive) before turn in of anything you wish to retain. While the reimaging process will flush everything, you are also welcome to delete personal electronic files in advance of your exchange as well.
Yes, the new laptops have an HDMI port for use with your current smartboard or projector.
The main differences include the new laptops have newer and faster processors, as well as WiFi 6 capabilities. They are configured with a district software portal that simplifies the software installation process which, because users will not have local administrative rights, will help prevent the installation of malicious software. The new laptops are capable of outputting video through the USB-C and/or HDMI ports, but do not support VGA.
No. This laptop, like the HP G5 and most other new laptops released in the last three years, does not have an optical drive.