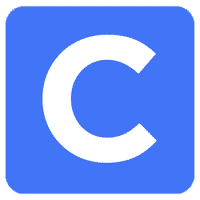 Clever is an easy way for you and your student to log in and learn with many of the online programs they use at school. With their own personal portals, students can learn with resources selected by their teacher and district.
P-CCS uses Clever so students can have all of their digital resources in one place. Clever also eliminates the need to remember multiple usernames and passwords. If, after following the directions below, you are unable to access Clever, please submit a service request.
How To: Login to your Clever Dashboard
Navigate to links.pccsk12.com/cl
Bookmark this link yourself, and either have students Bookmark this link or have your building Media Specialist or ParaPro (whomever manages your Symbaloo page) add this link to Symbaloo.
Once you get to this link, you will see this dialogue box in the middle of the browser window.
Students & staff click on the "Log in with Google" button, then select or enter the email address and password.
Please make sure you are signed into the Chrome browser with your Google account for the best experience with Clever. This is also recommended to families and students in order to make signing into district resources easy from home. This information is also shared on the Home Learning Hub via the P-CCS website. It's important to share with families that the information is there and they can submit a support ticket to the Tech Department for additional assistance.
If you are having issues signing into Clever, please submit a service request by visiting links.pccsk12.com/helpdesk and selecting TECHNOLOGY INTEGRATION when submitting the request.
How To: Signing into Chrome vs. signing into your Google account
A common issue we see with not being able to sign into Clever, is having a personal gmail account signed into Chrome. Learn how to manage multiple Google accounts with this video.
This tutorial will show you how to add Google accounts in Chrome, as well as how to add and manage multiple Google accounts within Chrome, so each person has their own personalized settings, bookmarks, passwords, etc. When Chrome is set up this way, it will be easier for students to sign into Clever.
The apps below are accessible via the Clever Single Sign On (SSO) app. MANY more commonly used learning and teaching apps are available for teachers to add directly into Clever via the Clever Library. When apps are added into the Clever Library by teachers, Clever can auto-roster and populate students into the apps that require student rostering and data.
Follow the directions on this page to help you and your students access Clever. Directions for families are also posted on the Home Learning Hub website.
Tour of the Clever Portal
How to use pages in Clever
Classroom Management Tools