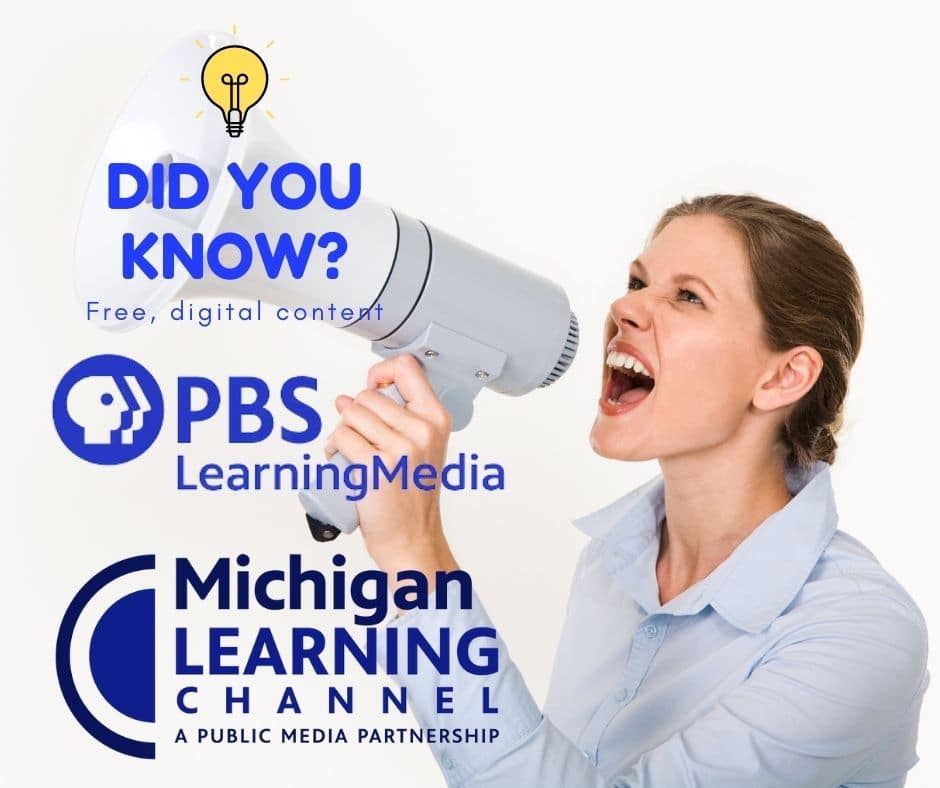 The Michigan Learning Channel (MLC) is a statewide public television partnership offering free instructional content to support the education of students and to provide alternative resources for families and teachers. Designed to enrich school learning, the instructional content is aligned with Michigan's educational standards and follows widely accepted sequences for mastering skills throughout the school year. Some of the programs include Read, Write, Roar, Curious Crew (science), and InPACT (physical education).
This programming is being broadcast on special on-air channels established by each of the participating public television stations in Michigan. It is also available as a livestream and stored for on-demand viewing on a variety of digital platforms, ensuring accessibility to all students, teachers and families in the state.
You can find their programming at: https://www.michiganlearning.org/
PBS LearningMedia is a great destination for direct access to thousands of classroom-ready, curriculum-targeted digital resources aligned to Common Core and national and state standards.
Spur your students' achievement and engagement through the use of audio recordings, documents, interactives, lesson plans, videos, and more! Browse by standards, grade level, subject area, and special collections then favorite and share resources with your class and colleagues. Best of all, PBS LearningMedia is free for PreK-12 educators and students.
You can find all of this at: https://pbslearningmedia.org/
PBS LearningMedia can be easily integrate in Canvas to find out more click here: https://pbslearningmedia.org/help/canvas/
Please submit a tech ticket if you have questions or would like a guide when exploring these resources.