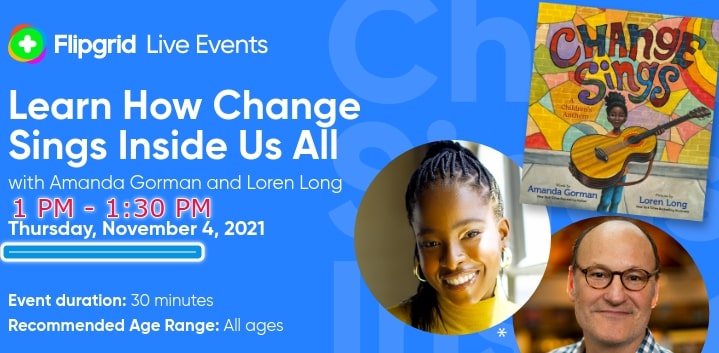 On November 4 from 1:00-1:30 PM EST, Flipgrid Live will be hosting Amanda Gorman and Loren Long. Amanda Gorman will read from her new picture book Change Sings and discuss the ideas in it. The illustrator will also talk about his creation process. You can go here to sign up to watch with your class live or on-demand.
Check out the Flipgrid's Discovery Library to find a number of topics to help your students prepare for the event. You can also see other upcoming events or access past events here: https://blog.flipgrid.com/upcomingflipgridliveevents. Many of the presenters help provide "windows and mirrors" for the students in our classrooms.
——————-
About Flipgrid Live Events – Take your learners on an adventure with Flipgrid Live Events without ever leaving the comfort of your classroom, home, or wherever you learn! These free virtual field trips feature authors, scientists, humanitarians, and creators sharing their passions from all over the world, even from the bottom of the sea!