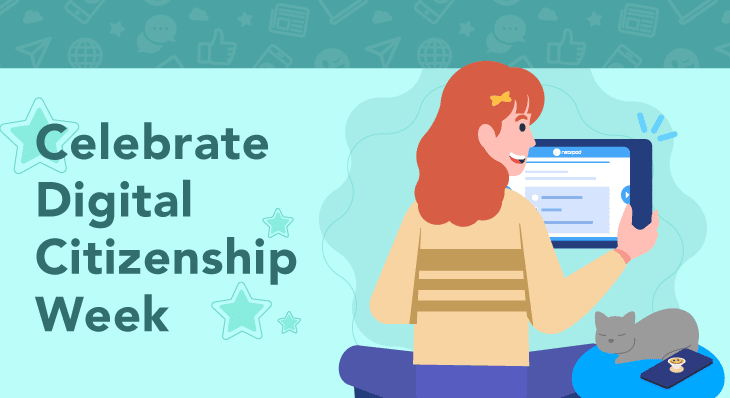 Every year, the third week of October is coined Digital Citizenship Week. It's a great time to focus on Digital Citizenship with our students.
To help guide instruction on Digital Citizenship, consider the 5 competencies:
The five competencies of digital citizenship
Inclusive: I am open to hearing and respectfully recognizing multiple viewpoints, and I engage with others online with respect and empathy.
Informed: I evaluate the accuracy, perspective, and validity of digital media and social posts.
Engaged: I use technology and digital channels for civic engagement, to solve problems and be a force for good in both physical and virtual communities.
Balanced: I make informed decisions about how to prioritize my time and activities online and off.
Alert: I am aware of my online actions, and know how to be safe and create safe spaces for others online.
A Change in Mindset: Focus on the Do's not the Don's
Watch this video to learn how to shift from telling students all the things they shouldn't do online, to helping them see all the things they should do while working online.
Interested in exploring Digital Citizenship with your students? Explore these resources:
Brain Pop is a district K-12 subscription that has many videos and activities surrounding digital citizenship.
Nearpod also has free lessons available for Digital Citizenship week. Click HERE to access Nearpod's free lessons.
Common Sense Media also has free (just sign up for an educator account) resources and lessons for Digital Citizenship. (If you're an elementary teacher, your Media specialists incorporate these lessons into their curriculum with all K-5 students).
A Digital Citizenship Framework and Lessons is a TechNotes blog post by Lori Gracey providing several resources for digital citizenship lessons.
Digizen is a website that has tons of resources on digital citizenship, social networking, digital values, and more.
Google provides a Digital Citizenship and Safety Course for teachers and students. The course has five units, each with an introduction, lesson, and review, lasting a total of 23 minutes each. Topics covered include privacy, phishing and scams, online safety, searching, and online reputation.
DigCitCommit has a list of great resources. Not only that, but if you have created your own resources, you can submit them to share with others.
Google has some resources on their Be Internet Awesome site. They also list a few partners that are worth checking out. For example, PearDeck has created Be Internet Awesome interactive presentations to coordinate with Google's lessons.
SeeSaw is a PCCS K-2 subscription and has more than 1,500 activities under the Digital Citizenship category in its Activity Library.