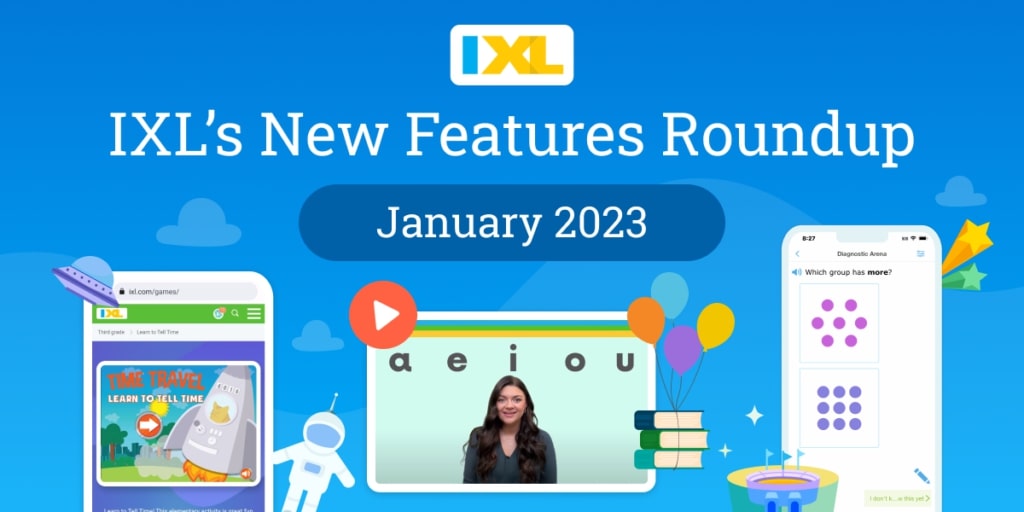 IXL has compiled a list of their top new features to help you students and staff get the most out of IXL.
Keep reading below for a roundup of releases from the past month, including video tutorials for English language arts skills, mobile support for IXL games, iPhone app support for the Real-Time Diagnostic, and more! To stay current with our latest updates, follow IXL on Facebook, Instagram, Twitter, LinkedIn, and Pinterest.
Table of contents
Major releases
English language arts video tutorials
Lights, camera, action: English language arts video tutorials have arrived! IXL now has videos for nearly half of our pre-kindergarten and kindergarten Reading Foundations skills. These tutorials help students learn how to read in a fun, engaging, and effective way. They provide research-based direct instruction for early literacy skills like phonemic awareness, phonics, and sight words, and they align with the science of reading.
Like IXL's math video tutorials, these videos can be accessed from the practice page of their associated skills by clicking the "Watch a tutorial" link. Check out a few examples below:
We will continue to release more pre-K and kindergarten videos in the coming months.