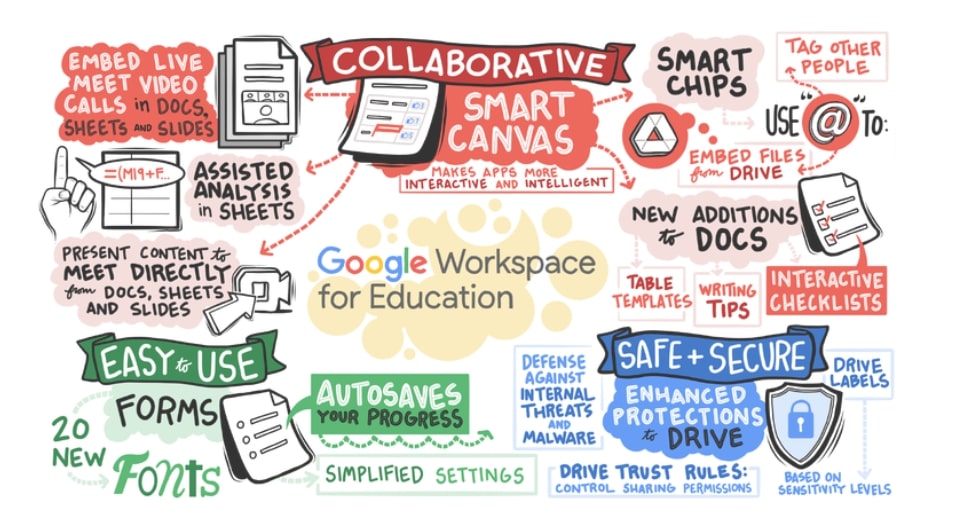 Google regularly updates/changes their Workspace apps. To follow their launched release changes, visit HERE. To check out details on planned release changes, visit HERE. In no particular order, some recently launched or expected release changes to note include:
File / Video Security Updates
Some shared files in your Google Drive will require using a URL that contains a resource key. This security update is being applied to some files in Google Drive to make sharing links more secure. This change will impact users who haven't previously viewed a file that you're sharing. As an end-user, this shouldn't change anything for you other than the link that you initially share if you use the "anyone with the link" option to share a file. This change will be implemented beginning July 26th with full enforcement on and after September 13, 2021.
Videos in your YouTube account that were uploaded prior to January 1, 2017 and were marked as "unlisted" will be changed to "private" on July 23rd. You can revert them back to "unlisted" after the 23rd. Read more about this change here. This update doesn't affect videos uploaded after January 1, 2017.
Twenty new font choices are being added to Google Forms.
The settings menu is going to be revamped to "simplify" the application of settings.
Improved revision history – To see who added or modified a portion of your document, simply highlight the text, right click and select "see editors." This is so much quicker and easier than digging through revision history! 
Create interactive checklists in Google Docs. There's a new checkbox option that you can add in place of bullet points in Google Docs. This is available now. See screenshot below for an example.  See this support page as well. Soon we will be able to assign checklist action items to other people and these action items will show up in their Google Tasks (as a reminder, browse to https://mail.google.com/tasks/canvas and login with your Google account. This is a full screen view of your Google Tasks.)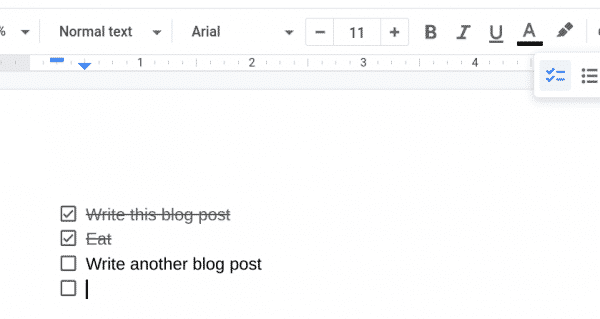 Google introduced the idea of a "smart chip" to demonstrate that Docs is more than just a page of text. Smart chips allow you to link to files, people, and events in your document. Just type the @ symbol and tag a person, file, or calendar event.
Coming soon…Pageless documents – Unless you are planning to print a document, there is no reason to limit yourself to 8.5×11. Google Docs now supports a "pageless" view that will automatically reflow text to fit the size of the screen you are using. If you do need to print, you can always switch back to the traditional view.

Emoji reactions in Docs – Starting this fall you will be able to add emoji reactions to portions of a document, a quick way to provide feedback without the need to leave a full comment.
Safer learning with Google for Education
Google is launching a new, age-based setting to control their app experience for users. See this support page for more detail.

After September 1, 2021, students who are under 18 will see changes in their experience across Google products.  For example, after September 1, students designated as under 18 in K-12 domains can view YouTube content assigned by teachers, but they won't be able to post videos, comment or live stream using their school Google account.
After September 1, 2021, students who are under 18 will see changes in their experience when signed into Chrome.  For example, after September 1, to ensure a safer web browsing experience for K-12 institutions, SafeSearch and SafeSites will be on by default, and Guest Mode and Incognito Mode will be off by default.