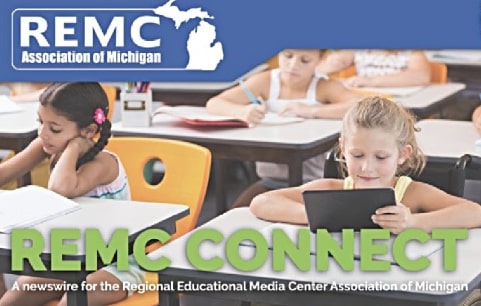 The Regional Educational Media Center Association (REMC) of Michigan promotes the transformative use of technology and provides Michigan schools with access to educational resources to help teachers increase student success. Two highlights from their April newsletter are shown below.

Meet up with others on the educational podcasting journey
REMC now offers resources, courses and workshops for edu-podcasting. Designed with classroom teachers, students, administrators and support staff in mind, our goal is to help anyone advance in their podcasting journey and to capitalize on best practices.
During the month of May, we are holding three separate online Mastermind Meetings. Sessions will be: May 9th, 16th and the 23rd.  READ MORE

Plan ahead with the REMC Professional Learning Annual Calendar
If you are looking to enhance your technology integration skills, explore new instructional delivery methods or learn tips and tricks from Michigan educational practitioners – The REMC Association has something for you!  To help with your professional learning planning, we are excited to share our REMC Course schedule through June 2024.
Take a look at all course offerings and register today! Earn 10 FREE SCECHs upon completion. Simply visit www.remc.org/remc-all-events/.