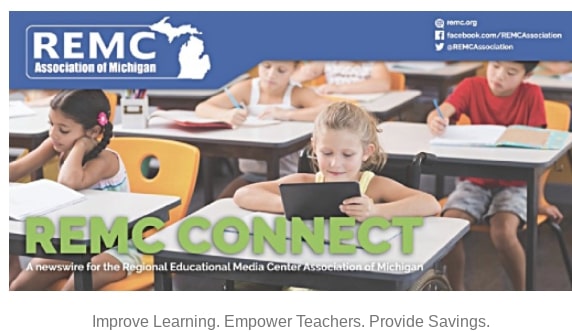 Just out, the October newsletter offers details on 10 free virtual courses, Teaching Strategies for Virtual and Blended Learning Environments webinars and their FREE TOOLKIT: Election + Media Literacy
Two highlights are pasted below:
October 2020
FREE WEBINARS: TEACHING STRATEGIES FOR VIRTUAL AND BLENDED LEARNING ENVIRONMENTS
Learn general practices for virtual and blended learning environments with REMC's new webinars:  "Introduction to Teaching Strategies for Virtual and Blended Learning Environments."  Additional sessions explore grade-specific practices for English Language Arts and Mathematics content areas.
Each webinar offers a robust toolkit of resources to support teacher planning and student learning.  Participants may choose to attend one or more of the seven sessions. Sessions will be available monthly through March 2021.
To earn two (2) SCECHs per session. Participants must attend the live webinar and complete the assigned task following the webinar.
All webinars are free. Registration is open now for the November and December sessions. Register here: https://bit.ly/3jDOBDO
---
FREE COURSES: WE'VE ADDED YOUR FAVORITE REMC COURSES TO NOVEMBER'S VIRTUAL COURSES LIST!
Due to pandemic-induced virtual and blended learning environments, two REMC Virtual Courses have been extremely popular this fall:  "Making the Most of Your Google Classroom" and "Using SeeSaw to Inspire Learning." These courses provide teachers with critical instruction for managing learning and connecting with students and families.  Now we've scheduled them again in November to meet the demand for these courses.
The REMC Virtual Courses offer an easy, convenient way for teachers to connect and collaborate from the safety and convenience of home. The Virtual Courses are free, offer 10 free SCECHs when completed, and are open to all Michigan school personnel. There are no registration or SCECH fees because REMC SAVE's vendor partners provide support for all REMC professional learning opportunities.
Twelve (12) courses are offered in November. Each course is open for three weeks and consists of two (2) one-hour "live" webinars that are recorded and available for viewing later, and eight (8) hours of resource review, assessment developments and written reflection.
November 2020 Course Information
November courses begin on Monday, November 2.  The deadline for registration is Friday, October 30.