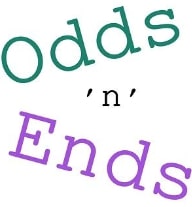 This week, Google announced Chrome users can now search their tabs, bookmarks and history in the Chrome address bar. These new shortcuts let you quickly search your tabs, bookmarks, and history. To do this you simply type "@tabs" or "@bookmarks" or "@history" followed by your search term to search within your tabs, bookmarks, or Chrome browser history.
The Florida Center for Instructional Technology hosts two great resources for teachers and students in search of free clipart and pictures for classroom projects. One of those is ClipArt ETC and the other is Clippix ETC. Their catalogs are arranged in thematic collections and sub-collections. Simply pick a collection then a sub-collection to find the resource that you want to use. The resources are available in three file sizes to meet most needs.
This video reviews three helpful features within YouTube including adjusting the size and color scheme of subtitles, accessing and saving a transcript of videos, and clipping sections of YouTube videos.  A reminder that inserting a dash between the "t" and the "u" in a video provides a video that is playable without ads, comments, and is in full screen mode. https://www.yout–ube.com/….