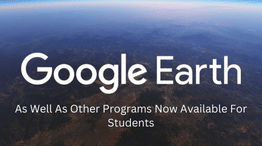 P-CCS remains committed to keeping student data protected and secure. We strive to comply with the Children's Online Privacy Protection Act (COPPA) and the Children's Internet Protection Act (CIPA) and review companies' policies around their digital offerings to ensure student data is safeguarded. With this as a backdrop, we chose to disable access to certain Google apps, including Google Earth, several years ago when Google changed their access requirements for those additional services. Very recently though Google introduced a way for districts such as ours to meet compliance expectations so we can again make them accessible to our students; the apps are Google Earth, CS First, and Google Read-Along.
Google Earth– Google Earth is a computer program that renders a 3D representation of Earth based primarily on satellite imagery. Also uses the Google search engine to utilize features such as timeline, history, and research.
CS First– CS First is an easy-to-use computer science curriculum designed for students in grades 4-8 (ages 9-14) that is free of charge. Teachers use the video content to teach kids coding basics with Scratch for CS First, a special version of the Scratch coding editor inside the CS First website.
Read-Along– Read Along by Google uses AI to listen to children as they are beginning to read and give them pointers, suggestions, and let's them know how they are doing. Please note that the books have to be on their site, and the program is still in BETA.
As the blog post title states, this is for eligible students. Meaning, students whose parents have digitally agreed in MISTAR Parent Connection to the Children's Online Privacy Protection Act paperwork when registering their children for school. If you are unsure which of your students do not have permissions, you can have the students try and access one of those services or you can check with your building secretary (they can run a MISTAR report on COPPA sign ups).
As always, if you need any assistance, or ideas on how to utilize these great programs in your classroom, reach out to the TIS team via a technology service request!