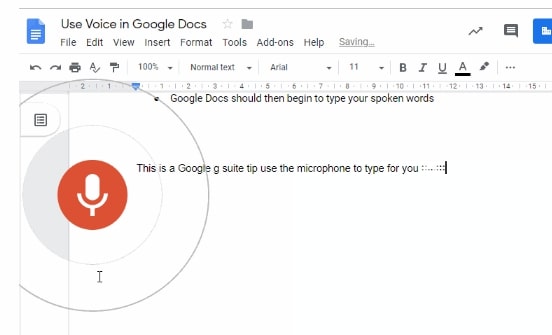 Typing Using Your Voice
Working on the go, or need to document something quickly? Use Google Docs Voice feature to do the work for you. Type using your voice in Google Docs!
Google voice features are everywhere. We use them every day across a range of our devices whether it be Google voice on our phones, Google Homes or even asking Google questions such as directions hands-free. But did you know, you can even use the voice feature in Google Docs too? Whether you're working on the go, or just need to jot something down quickly whilst it's fresh in your mind, Docs has got you covered.
Note: This feature only works on a Chrome browser. Make sure before you begin that your device has a built-microphone to be able to use this feature.
In Docs:
Click 

> 

Tools 

> 

Voice Typing  

(Ctrl+Shift+S)

You'll be asked to Allow or Block this feature > 

click 

> 

Allow

You'll see a 

grey microphone

 appear on the left hand-side of your Google Doc

Select 

your chosen language from the drop-down

Once you click 

the icon > it will change to an 

orange microphone icon

Click 

> then start talking as normal, making sure to speak at a good volume and as clearly as possible

Google Docs should then begin to type your spoken words
---
SYNC DATA FROM ONE SPREADSHEET TO ANOTHER
Save time by importing existing data into a new spreadsheet without having to copy it all again.
We often find we need to copy important data into more than one spreadsheet, but it can be tricky if the data is large and complex. Use this handy formula to important your data in minutes.
To start, 

open 

up the spreadsheet or tab you want to copy to the new Sheet > 

copy 

the sheet's URL

Make a 

note 

of the 

cells 

you want to import

Open the 

new 

sheet where you want the data to appear

In the cell begin to type > 

=IMPORTRANGE

 (you'll see the code as you begin to type)

Type 

> quotation 

"

 (very important) then paste the URL from the sheet and add 

another 

quotation mark at the end of the URL

Then 

add 

a 

comma 

, > 

quotation 

mark again " > then type the 

exact 

name of the specific 

tab 

you want to 

copy

 followed by an 

exclamation mark !

Finally, 

type 

the range of 

cells 

you want to import eg: A1:A19 followed by 

" 

quotation marks

Press > 

Enter 

and your data will now appear in your new Sheet