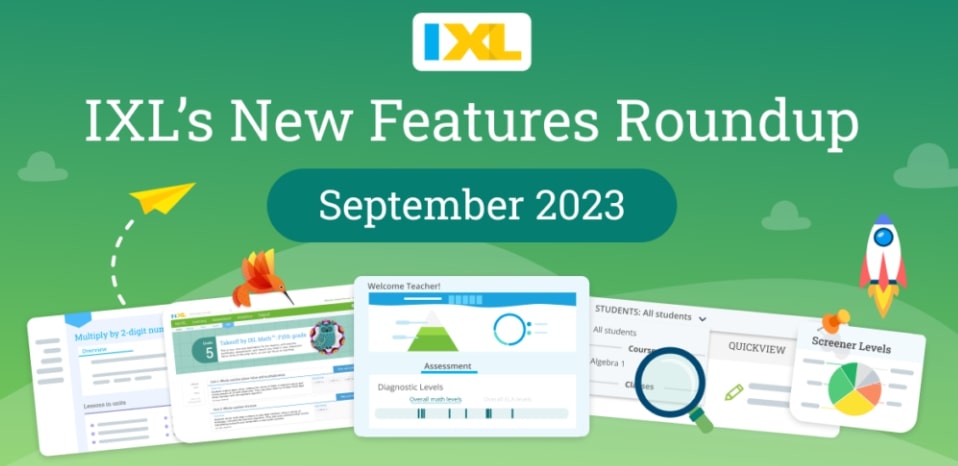 See everything IXL has added since school started back up! Read on to find out what's new on IXL this fall including new units of the Takeoff curriculum, assessment data on the teacher dashboard, filtering for courses and more!
Summary of some key releases in the screenshot below: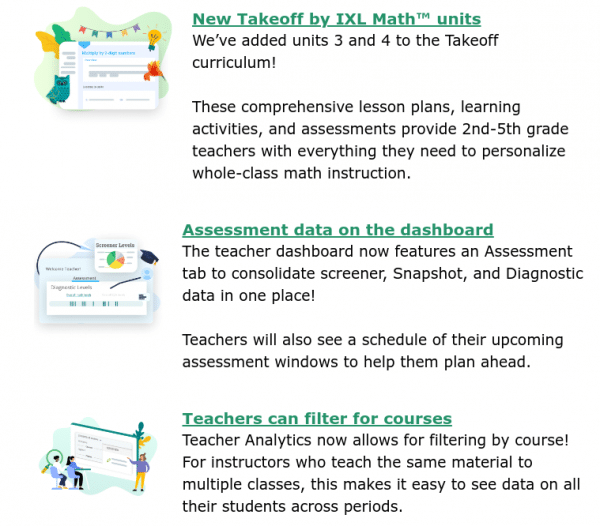 Table of contents:
Major releases
New units for Takeoff by IXL Math™
We've released Takeoff by IXL Math™ Units 3 and 4!
Takeoff by IXL Math™ provides everything 2nd-5th grade teachers need for their daily math instruction, personalized to meet the needs of each student, including:
Detailed day-by-day lesson plans
Differentiated support and enrichment resources
Print and online learning activities
Built-in unit assessments with personalized next steps
Unit 3 covers the following topics:
Unit 4 covers the following topics:
Unit 4 for Grade 3 will be released soon.
Feature updates
Assessment tab on the Teacher Dashboard
Teachers can now find all of their assessment-related information in one place from the Teacher Dashboard! Under the new "Assessment" tab in the middle of the dashboard, teachers have three new sections covering:
Diagnostic levels: displays students' overall math and ELA Real-Time-Diagnostic levels, and links to the Diagnostic Overview report.
Screener levels: displays the results of a class' most recent Screener, and links to the Screener Levels report.
Upcoming assessment windows: displays upcoming universal screener and Diagnostic Snapshot windows scheduled by an administrator.
Filter courses in Teacher Analytics
Teachers can now filter their reports to view all students within a course! Courses are groups of students in IXL who are rostered in different classes, but are working on the same material. For middle and high school teachers who teach multiple classes of the same course, this will allow them to filter across class periods.
Teachers can click the "Students" filter at the top-left of each report to filter by their classes or courses. Once they select a course, they will only see data in the report for students who are in roster classes that are associated with that course.
Suggestion stars on the Student Usage report
The Student Usage report now displays the gold suggestion star next to a skill if the student practiced it while it was suggested! This update makes it easier for teachers to ensure that their most prioritized skills are being practiced.
Skill plan updates and new skills
New math skills
We've released a handful of new math skills, including new calculus skills:
New ELA skills
We've released new reading strategies skills and book study skills:
New science skills
We've released new science skills:
New social studies skills
We've released new social studies skills:
New Learn to Read skill plan
We've expanded our popular Learn to Read skill plans to now include Pre-Kindergarten! Tailored for our youngest learners, the Pre-K Learn to Read plan focuses on nurturing essential skills such as letter knowledge, phonological awareness, and beginning phonics, providing a strong foundation for Kindergarten readiness.
New textbook skill plans
This release we added the following textbook skill plans:
New standards skill plans
We released skill plans for the following state and provincial standards:
We've also updated alignments for the following plan:
Additional releases
New video tutorials
We now have over 2,700 math and ELA videos on IXL.com! We've added 24 new phonics videos, 40 new reading foundations videos, and 4 new middle school ELA videos. With this release, we now have videos covering about 50% of the "reading foundations" skills in grades 2-3. These videos cover topics such as:
We've also added 335 new math videos across grade 2 through Algebra 2. This release covers more than half of the skills for both grade 2 and Algebra 2. Video topics include:
We've also released 16 Canada-localized math videos to expand our coverage in grade 6. With topics like:
Spanish subtitles have also been added for 50 more math videos in grade 6 through Algebra 1. See an example of the new subtitles:
More math skills with Spanish support
We've expanded our Spanish-language support to include a handful of new skills covering grade 2 through Algebra 1. These newly supported skills include:
New international ELA skill
We have added the ELA skill "Identify the purpose of a text" to our international editions (CA, AU, NZ, UK, IE, IN, ZA); this skill was previously only available in the US. This skill allows students in grades 2-3 to practice reading for the author's purpose (to persuade, inform, or entertain) by interacting with engaging graphic elements. These include book pages, newspaper articles, web pages, and more.