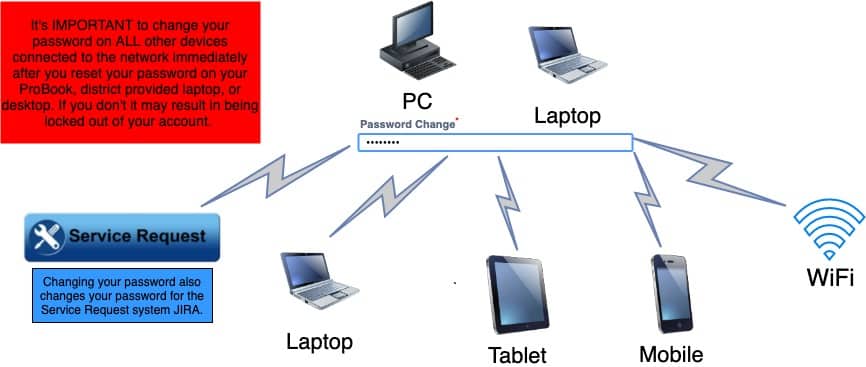 Every 90 days, your P-CCS network password is set to expire, and you are automatically prompted to create a new password. [Each time, we urge you make it a "strong" one. See here for guidance.] While this may seem frustrating at times, it keeps our network AND your data safe. There are some specific ramifications that occur when this process happens. Once you reset your new password on your P-CCS ProBook, desktop, or other district-provided laptop, it is important to IMMEDIATELY also reset your password on any personal devices connected to the Staff WiFi network. The illustration below highlights the systems and devices that are affected when changing your password: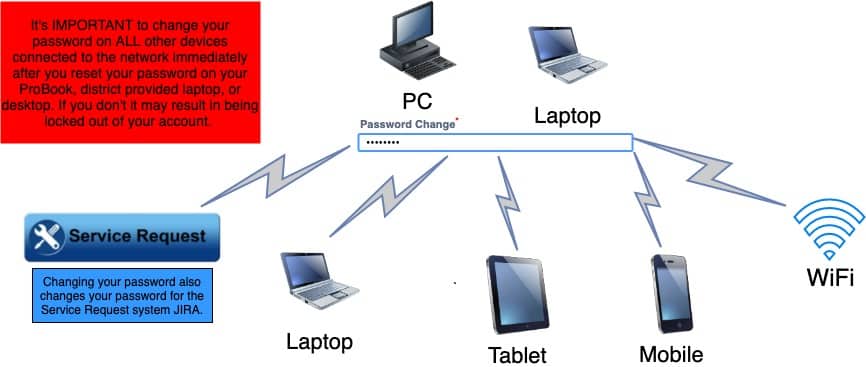 If you DO NOT change your password, your other devices, such as an iPhone or Android might well continue to "knock on the network door" with your OLD PASSWORD multiple times, thus locking you out of your account and causing frustration. When dealing with iPads, iPhones, or Androids, it's a good idea to also tap "Forget Network" first before entering your new password for the network WiFi. See the links below for further assistance in this regard.
How to forget a Wi-Fi network on your iPhone, iPad, iPod touch, or Mac
Android 101: How to 'forget' a Wifi network
As always, if you experience a lock-out, you will have to have someone else submit a service request on your behalf.