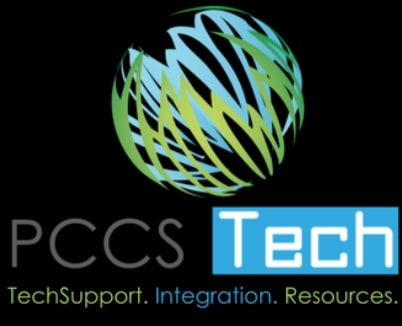 We hope this blog post finds you safe and well.  
The Technology Integration Team wants to ensure that EVERY staff member feels supported. Please read on to learn how we are working to support you. 
ONLINE HOME TEACHING HUB
We created a GREAT site (but don't take our word for it) thoughtfully filled with resources to assist you in successfully navigating online teaching and better understanding various tech tools and services. Please consider bookmarking (click star in the address bar) our home teaching hub site: links.pccsk12.com/hth. 
USING WEBEX 
With Webex being our required platform by May 15th for any student video conferencing, we have created a dedicated Webex and Videoconferencing page filled with how-tos and best practice guidance on the Home Teaching Hub. 
CALENDAR OF AVAILABLE TRAINING OPPORTUNITIES
In addition, on both our Webex Help page and the professional learning page, we have a public calendar listing available webinars on how to use Webex Meetings and Webex Events offered both by Cisco Webex staff and by the TIS team. Other training sessions are available through Teq(OTIS), Seesaw, and other vendors. The district-led training offered by Rick and Matt can be identified by the label "P-CCS" at the beginning of the webinar title.
Please note we have 2 Webex training sessions this week. 
Wednesday, May 6th- Webex Meeting Training- 12:00-1:00 p.m. – Click to copy to calendar
Thursday, May 7th- Webex Events Training- 12:00-1:00 p.m.- Click to copy to calendar
TO ACCESS and REGISTER for TRAINING and WEBINAR EVENTS:
Click on the specific event shown on the calendar (see sample below from our Professional Learning Page):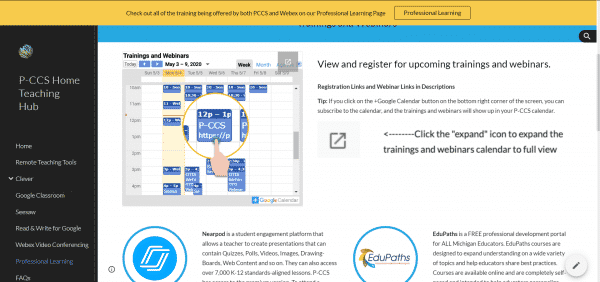 Then click on 'copy to my calendar'. It's now on your calendar. Happy learning!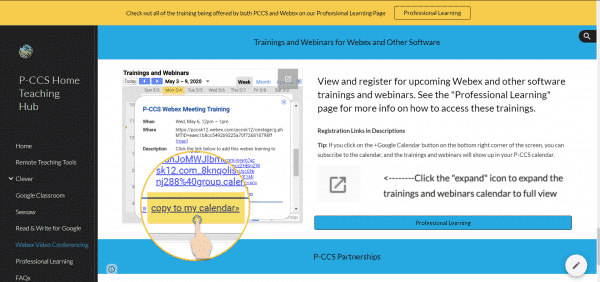 PERSONALIZED APPOINTMENTS
We also understand that some staff would like more individualized support. We'd love to help! Both Matt and Rick have open virtual office hours four hours every day, two hours in the morning and two in the afternoon (9-11 A.M. & 1-3 P.M.) To make a 15 minute (or longer) appointment with us, please click on this link: https://calendly.com/tis-pccs/15min. This link is also located in the signature of our emails.
Please know that we are here to support you however we can.
Thanks!
Your TIS Team,
Matt & Rick