Here are a few September Canvas updates in New Quizzes to be excited about:
New Quizzes: Build on Last Attempt
In New Quizzes, instructors can allow students to build on their last attempt of a quiz by reattempting incorrectly answered questions.

In New Quiz Settings, select Allow multiple attempts [1], and then select the Enable build on last attempt checkbox [2].
Note: When the build on last attempt feature is enabled, students can only view questions marked with incorrect answers, all other questions are hidden. If you have short answer questions you want them to reattempt, you'll want to add a waiting period to give you time to grade those items.
Additional Details
Students can reattempt incorrectly answered questions until the answer is marked correct in SpeedGrader or they run out of attempts. Students who get all questions correct will not have the option to reattempt.
❗ Bonus Tip: Did you know that you can grade one quiz question at a time in SpeedGrader? How do I grade one quiz question at a time in Spee… – Instructure Community (canvaslms.com)
New Quizzes: Quicker Item Analysis Report
In New Quizzes, instructor access to Item Analysis reports is faster and the user interface is updated. While the item analysis used to take 24-28 hours, it will now take about 1 hour (depends on the size of the quiz and other factors).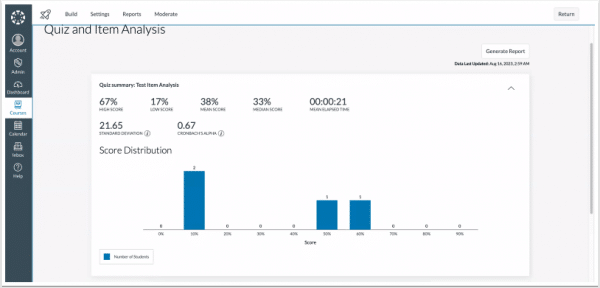 If you like these features but have Classic Quizzes in your course, reach out for information about migrating those quizzes to New Quizzes. There have also been hesitations about partial credit on new quizzes, check out this resource (3 slides) that breaks down how this works in New Quizzes.
Not sure how to interpret the item analysis? New Quizzes Quiz and Item Analysis – Instructure Community (canvaslms.com)
Sharing New Quizzes
If you have tried to share a New Quiz with a colleague you may have been frustrated if images or audio did not come with the quiz. To solve this, you can export the quiz file (QTI ZIP file) with these directions: How do I export a New Quiz from a course? – Instructure Community (canvaslms.com).
After exporting the file, you should be able to email the file to a colleague and they will be able to import it into their quiz. How do I import a quiz from a QTI package in New Q… – Instructure Community (canvaslms.com)
This isn't the typical, seamless process of sharing content in Canvas, but we are hopeful can an update will come down the road.