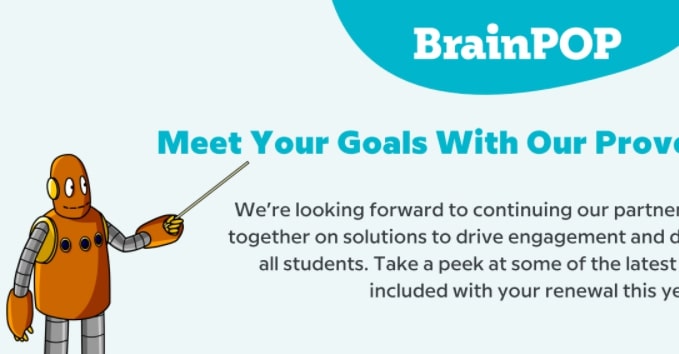 Take a peek at some of the latest enhancements included with our BrainPop renewal this year.
IMMERSIVE READER: Level the playing field with more support for students across all reading levels on BrainPOP Quizzes with Microsoft's Immersive Reader.
Teachers and students using BrainPOP's Quizzes now see the icon for Immersive Reader. Through features such as read aloud, line focus, translation and grammar markings, as well as the ability to adjust the size, style, and color of the font, learning becomes even more accessible to all students.
MODIFICATION STRATEGIES: Get helpful ideas for adapting BrainPOP tools and features for a variety of contexts and learners.
This modification "chart" features strategies for modifying each BrainPOP tool and feature for varied context and learners.  This includes synchronous and asynchronous learning, offline instruction, diverse learners, and language development for ELLs.
The table is organized by a traditional learning arc. This will support teachers and students to use BrainPOP to build background knowledge, practice thinking skills, and assessment or reflection.  Download this useful reference for planning lessons and differentiating instruction.
NEW READY-To-GO STANDARDS ALIGNED LESSON PLANS: Looking for ideas about how to use BrainPOP with your students? Click HERE to find top-notch lesson plans from the BrainPOP Educator community. Explore our growing collection of lesson plans or submit your own!
Want to quickly find lesson plans for a specific BrainPOP topic or game? Click the "Lesson Ideas" button that appears on every topic or game page. You can also find a collection of lesson ideas for each topic in the BrainPOP, BrainPOP Jr, GameUp, or, BrainPOP ELL directories that appear in the Lesson Plans menu.
COVER THE LATEST TOPICS: Timely content: Explore 40+ new and enhanced SEL and academic topics including—
COVID-19, Self-Esteem, Graphs, Voting Rights, and more.
Coming Early 2022: Movie Pause Points: Engage students with embedded questions to encourage active viewing and meet more standards.
——–
As a reminder, all district students, K-12 can access our paid subscription to BrainPop/BrainPop Jr via Clever at https://clever.com/in/pccs