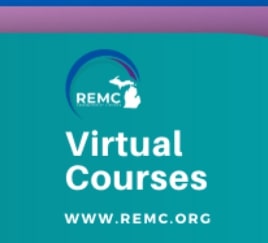 Passing along news from REMC: 2021 SEPTEMBER REMC Virtual Courses
Kick off the school year with new skills and tools to engage students.
Earn up to 10 Free SCECHs
Take advantage of September's Virtual Courses for all your back-to-school needs. It's a great  time to learn a new skill in an instructor-led virtual course setting. Each course offers 10 free SCECHs, registration deadline is Friday, September 3rd.
The REMC Virtual Courses offer an easy, convenient way for teachers to connect and collaborate from the convenience of their home. The Virtual Courses are free, offer free 10 SCECHs when completed, and are open to all Michigan school personnel. There are no SCECH fees because REMC SAVE's vendor partners provide support for all REMC professional learning opportunities.
Register by Friday September 3rd – Classes Begin September 6th.
If you have questions or need further assistance with your course registration, please contact Erin Rommeck, REMC Event Coordinator.