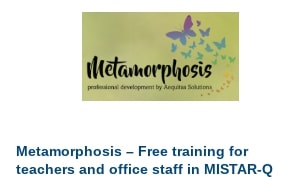 The MISTAR consortium offers two self-paced training courses introducing new users to the tools commonly used by teachers and secretaries.  Offered at no cost to MISTAR districts via the Alludo learning platform, the Monarch "game" is a great fit for teachers new to our district.  Players complete a series of online lessons and submit evidence / screenshots in the Alludo app, tracking their progress.  They can select from a variety of modules to best meet their learning needs with the MISTAR teacher tools. Staff can get started on this training at any time, and there are SCECH hours available to those who complete the training.  
New this year is the Skipper "game" for those in office roles.  There are several modules including Building Blocks, Enrollment and Scheduling as well as more modules coming during the school year.
To get started with either Monarch or Skipper, please submit a service request asking for the specific training course(s) desired so that we can set you up and send you a customized link.