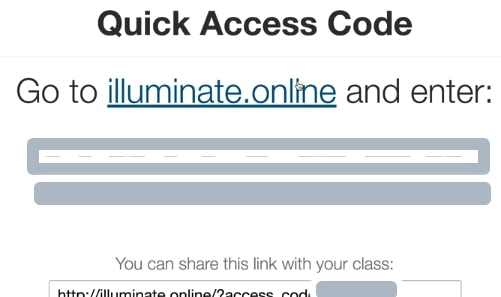 Teachers planning to use Illuminate for testing should consider using QUICK CODE rostering for ONLINE TESTING. The Test in Portal process sometimes misses students due to schedule changes etc in the nightly refresh.
QUICK CODE Roster is the best way to give an online test in DnA. Quick Code gives the test administrator a seven digit code and a link that can be shared to students to take the test online virtually without accessing their DnA student portal.  The student will need to enter their student ID, the seven digit quick code, confirm their name and ID, take the assessment online, finish, and their results will automatically save in their portal.  This can be used for item bank, manual/hybrid, and flexible assessments.
Please check out the Illuminate University online video resource for DnA online testing administration using QUICK CODE Roster for a nice overview:
U351 – Online Testing Start to Finish Quick Code Roster
During the online testing administration, the teacher has the ability to live proctor the exam (unless it's a new item bank exam; live proctoring is coming in the near future for new item bank assessments. ) For details, check out this training video:
U351- Live Proctoring & Monitoring Student Progress
Also, here's a resource line for online testing using quick code roster:
https://support.illuminateed.com/hc/en-us/articles/223955208-online-testing-setup-using-a-quick-code
For other online testing resources, please check out Get Started with Online Testing as there are other topics you may want to check out.