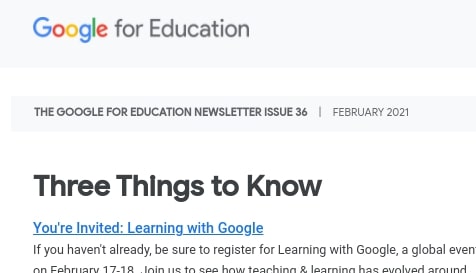 Issue 36 was just released today. Below are some of its notices for your consideration.
Be Internet Awesome presents Safer Internet Day 2021
Join Be Internet Awesome on @googleforedu Twitter and Facebook for the 7-Day Internet Safety Challenge – promoting online safety all week long. We'll share four new activities and tools for educators to use with their students.
Code.org celebrates Black Voices in Computer Science
Although computer science is foundational to every industry and field of study, representation and participation in CS is still far from balanced. Watch and share this inspiring video from our partner Code.org, advocating for greater access to CS education for Black students.
Arts & Culture: Blob Opera
From Google Arts & Culture's Lab and artist David Li comes Blob Opera. Exploring the original musical instrument: our voice. Play four opera voices in real time. Explore pitch then record and share your musical composition. No singing skills required.
Arts & Culture: Preserving Egypt's Layered History
Brings to life the archaeological discoveries, the archaeologists and preservation processes. With stories, 3D and AR models, Quizzes, videos, virtual tours and Choose Your Own Adventures, the project brings the treasures of Egypt into the classroom.
Wakelet & Google for Education: Showcase Challenge
Get involved in the Wakelet & Google for Education: Showcase Challenge! Share your ideas for making the most of Google for Education tools and showcase your expertise inside a Wakelet collection to get your hands on our exclusive digital swag pack.
Missed an issue of the Google for Education newsletter? Check out past issues here.
Did a friend or colleague forward you this email?
Sign up to get Google for Education updates in your inbox.