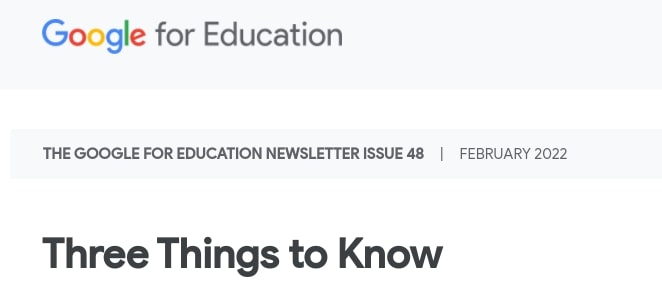 Here are some highlights from the latest newsletter for your consideration.
Originality Reports Available for Google Slides
Previously available for Google Docs, originality reports can now also be run in Google Slides. Originality reports are a feature that helps students and teachers detect plagiarism and can be used when submitting or receiving files in Google Classroom.
Register for the Teach with Chrome Series
Learn about the latest in Chrome devices and Chrome OS with more than ten 30-minute sessions featuring Google experts and partners running demo-based trainings. If you can't watch live, all sessions will be available on demand after the livestream finishes each day.
Join a Google Educator Group
Find a Google Educator Group near you and meet educators in your area who use Google tools to foster learning in schools, classrooms, and communities.
Earn Your Educator Level 1 Certification
Demonstrate your mastery of Google tools in the classroom with the Educator Level 1 Certification. Completing the certification earns you a badge that can help you stand out on your resume, portfolio, website, and more.
New Black History Month Lesson from Applied Digital Skills
Our new lesson 'Create a Community My Map' promotes student cultural awareness and activism. In this lesson, students will customize a 'Google My Map' that features places that are meaningful to them in their community and share it with their peers.
Apply to be a Google Certified Trainer
Apply to be a Google Certified Trainer today and connect with other passionate educators! As a trainer, you'll foster change and efficiency in the educator community by helping educators use Google Workspace tools in their classrooms.
Register for a Google for Education Security Summit
Our virtual Security Summits focus on best practices to safely and securely manage your school's online presence. We'll explore our powerful, free security tools (DLP, Vault) and get hands-on with hero features (Investigation Tool, etc.) from our paid Workspace editions.
Arts & Culture: Memory of the World
Discover some of the world's most significant items of documentary heritage through the UNESCO program. Educational resources including video, a lesson plan for K-12, and an introduction for teachers are available.
Arts & Culture: A Brief History of Vaccines
Find out about the discovery of viruses and history of vaccines. Check out videos, stories, quizzes, and insights into people who help save lives and the design of protective equipment.
Arts & Culture: Thai Art History
Explore 70 years of Thai art through color, high res images, interviews with artists, and different materials. Find inspiration and insight into the culture and art of Thailand.