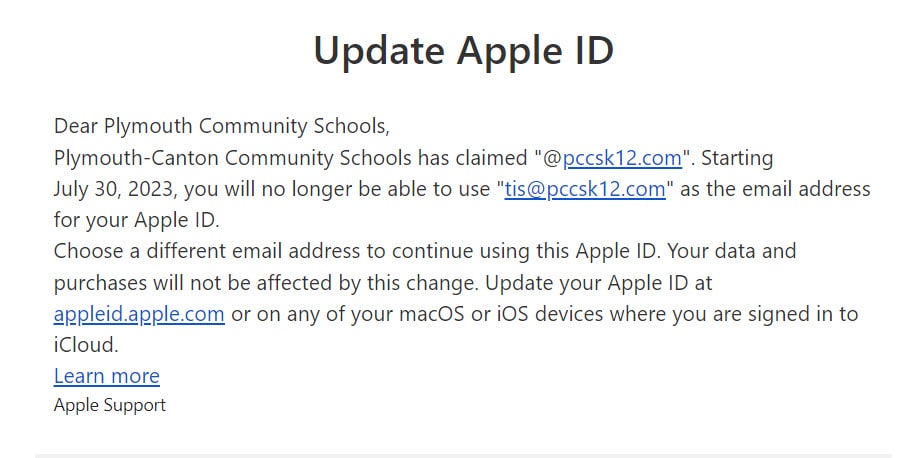 Been getting Emails like this? (If you have not been getting these emails you can ignore this blog post)
Update Apple ID
Dear Plymouth Community Schools,
Plymouth-Canton Community Schools
 has claimed "
@pccsk12.com
". Starting 
July 30, 2023
, you will no longer be able to use "
tis@pccsk12.com
" as the email address for your 
Apple ID
.
Choose a different email address to continue using this Apple ID. Your data and purchases will not be affected by this change. Update your 
Apple ID
 at 
appleid.apple.com
 or on any of your macOS or iOS devices where you are signed in to iCloud.
If you have been getting these emails it means that you previously used your @pccsk12.com email address as an apple ID. This is the first step in the process of PCCS moving to managed apple IDs. And now that PCCS will be managing all @pccsk12 emails used as Apple IDs – you need to decide what's best for you.
Do you have a lot of app purchases or credit cards or photos or other data that you wish to keep? If YES, then you are going to want to update your apple ID to a different email address. You can use a personal email that isn't already tied to an apple ID, create a new email to update your Apple ID to, or create an icloud email address to transfer your data.
If you DO NOT have any app purchases or data you are concerned about keeping, you can ignore these emails and do nothing. After July 30, Apple will assign an icloud email address to you and send an email with the information to change your password. If you truly do not care about any data previously attached to your PCCS apple ID, you can again do nothing.
In the fall, more information will be coming out about how to log in to your managed apple ID and the benefits!
If you'd like more information on Managed Apple IDs, check this previous blog post.