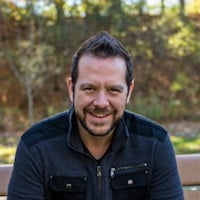 Hometown: 
Denver, CO>Algonac, MI>Ypsilanti, MI
What is the usual reason a classroom teacher/media specialist needs to email or call you?  
Usually for technology support in one way or another.  If it's something more technical that I can't help with, I find support for them. First and foremost, I am a teacher, and my lens is always around student learning and engagement. Philosophically, I believe that technology can improve student learning and achievement in a profound way, and in turn, improve the lives of teachers and their students.  It's not that I think technology is some magic bullet for learning, but our students live in a digital world, and it's our job to make sure as educators to make sure they have the skills to compete in life.
What do you like doing when you're not working? 
I spent time with my wife and two daughters, play guitar for several music recording and performance projects, and have a company called Grove Studios, that we are working to expand. If I'm not doing any of that, I'm camping, snowboarding, reading, or cooking.
What is your favorite type of music? 
I prefer American music generally, but am open to all world music.  Mostly Rock, Jazz, R&B, Hip-Hop, and Blues though. Ryan Adams, Wilco, Thelonius Monk, John Scofield, Tribe Called Quest, Run The Jewels, BB King, and Muddy Waters are some favorites.
What app or program could you not do without?
Google Apps; Gmail, Drive, Forms, Drawings, TechSmith Camtasia and Snagit.
If you could be any superhero, who would you be?
The Greatest American Hero, mostly because of the theme song that would come with it.  It's really the best theme song ever.