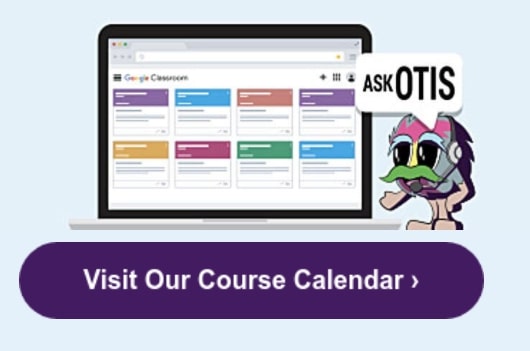 Looking for some tech-related PD? Consider signing up for a free basic OTIS account to access their free course content . Their calendar to see what's available when can be found here. OTIS is bringing some special guests for great back to school webinars! They're covering everything from Google apps, to coding, to engaging educators in professional learning. Two of their many sessions are noted below. More free courses can be reviewed and signed up for here.
Back to School with Google Forms
Tuesday, 8/17, 3 PM – Alice Keeler
Google Forms is the greatest thing since sliced bread. You know the basics of creating a Google Form, but what else can you do to leverage the learning power and student engagement elements of Google Forms? Let's go over how to reuse your Google Forms from last year. Why and how to use Branching Forms. Join Alice Keeler to start the school year off right by upping our Google Forms game!
Teaching with Google Jamboard
Tuesday,8/24, 3:00 PM ET – Alice Keeler
Join Alice Keeler for this session, which is an intro for teachers on how to use Google Jamboard app in the classroom. It will cover everything from the basics of how to navigate to lessons/activities you can use today! Alice will also cover some important pedagogical considerations to help you know when and how to use Jamboard…