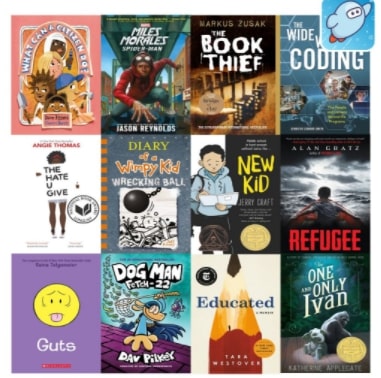 The online Sora app was designed around the modern student reading experience. This app, developed and curated by Overdrive, empowers students to discover and enjoy ebooks and audiobooks, for both leisure and class-assigned reading. ALL STUDENTS in schools that don't already have an OverDrive subscription AND ALL STAFF can now log into our Sora page using their Google Accounts at http://links.pccsk12.com/sora and begin checking out ebooks!
Students at all of our middle schools and three of our elementary schools already have OverDrive and Sora account access and should continue to access their collections as they normally have in the past, with the new knowledge that all of the additional premium titles our district account has access to also have been added to their respective school's collections. For those uncertain how students can access Sora and your schools' OverDrive account, please contact your school's media specialist.
Inspired by educator and student feedback, Sora was created to excite kids about reading and remove distractions to promote a focus on learning.
Once logged in, students are able to "check out" for free one or more ebooks from a selection of more than  200 premium ebook titles, some with audio accompaniment.  Sign in to see what's available or browse this list of titles that were available earlier in the month. The selection of what's free and available for unlimited simultaneous check out changes monthly, and while access to some of the premium titles will end in late June, access to some titles will continue throughout the coming school year.
Below are some of the available titles and a brief introductory video.