Over this past weekend, the MISTAR Consortium implemented version 3.7.0.1 of MISTAR-Q. This version includes free NEW MOBILE apps for both PARENTS and STUDENTS allowing them to access their portals from Android and iOS devices as well as various improvements and bug fixes.  To read an overview click here.
Mobile App Installation Instructions
To connect to our school district, there is now a FREE mobile application for smart phones or tablets.
It is quick and easy to get started!
On the device, connect to the Android Play store or the iOS App Store.
Look for the Q Parent Connection app, or Q Student Connection icon, like the icons below: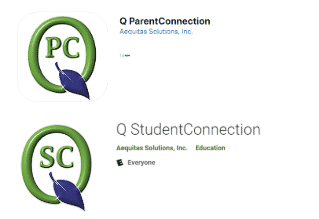 Links:
Install / Open the app.
Select the "Connect to school district" option. Use the filter to select the state, county and school district.
Click the "Enter Parent Connection" button OR "Enter Student Connection" button.
On the top right corner of the app, click the "Log in" button.
Enter the Parent Portal PIN and password. These are the same PIN and passwords used on a desktop computer. For Student Connection, use the same credentials as on a desktop too.