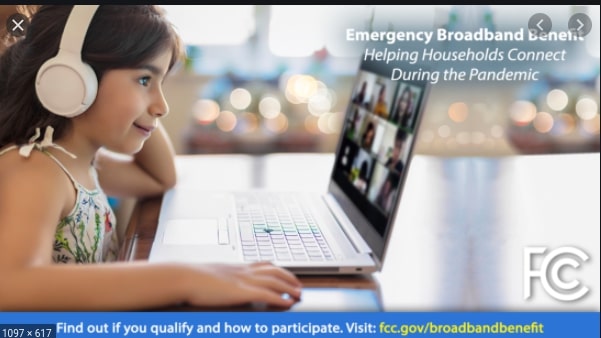 I wanted to alert our community to a benefit program that I hope we can spread the word about to our eligible families. In the Consolidated Appropriations Act of 2021 which was recently signed into law, Congress has specifically carved out $3.2 billion dollars to provide Emergency Broadband relief (a discount of up to $50 per month towards broadband service) to qualifying eligible households. Eligible households can also receive a one-time discount of up to $100 to purchase a laptop, desktop computer, or tablet from participating providers if they contribute more than $10 and less than $50 toward the purchase price.
As of May 12, 2021, eligible households will be able to enroll in this program to receive a monthly discount off the cost of broadband service from an approved internet service provider (American Broadband, Charter, Comcast, T-Mobile/Metro by T-Mobile, and Wow are among these ISPs). Eligible households can enroll through their approved internet service provider or by visiting https://getemergencybroadband.org.
A household is eligible if a member of the household meets one of the criteria below:
Has an income that is at or below 135% of the Federal Poverty Guidelines or participates in certain assistance programs, such as SNAP, Medicaid, or Lifeline;
Approved to receive benefits under the free and reduced-price school lunch program or the school breakfast program, including through the USDA Community Eligibility Provision in the 2019-2020 or 2020-2021 school year;
Received a Federal Pell Grant during the current award year;
Experienced a substantial loss of income due to job loss or furlough since February 29, 2020 and the household had a total income in 2020 at or below $99,000 for single filers and $198,000 for joint filers; or
Meets the eligibility criteria for a participating provider's existing low-income or COVID-19 program.
Check out the Broadband Benefit Consumer FAQ for more information about the benefit and please continue to check this page for program updates.
Please note, the benefit program described above is different from the permanent Lifeline program, which is another benefits program some of our families qualify for and likely could benefit from — thanks for sharing news of both for their consideration.