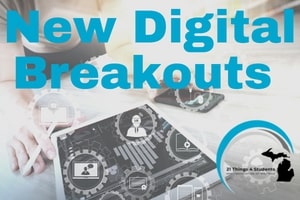 Digital Breakouts are a great way to engage students in important tech skills through an action-packed digital scavenger hunt. Students are so engrossed in solving puzzles and competing with classmates, they actually don't even realize they are being taught important content!
The REMC Association 21Things4Students has added four new digital breakouts to support technology proficiency and to keep students safe and secure online. Using clues to solve and open a lock, Digital Breakouts promote collaboration and teamwork while enhancing curriculum content. Interactive activities can include mazes, matching vocabulary, word searches, directional grids and more.
Check out the four new 21Things4Students Digital Breakouts:
21Things4Students has ready-made classroom activities and curriculum to help all educators integrate technology skills into their classroom learning. All materials are FREE and licensed under Creative Commons for use and duplication.