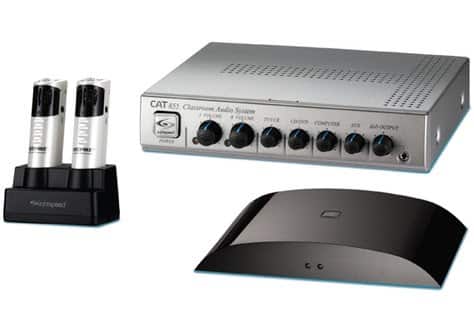 Lightspeed Technologies (found in our secondary schools), and Teach Logic (found in our elementary schools), the manufacturers and service providers for our audio systems provided some tips for the care of our classroom audio system over the summer.
The P-CCS Tech department urges that microphones be stored in a secure location as buildings are responsible for their replacement should they be damaged or missing.
Before leaving school for your summer break, here are a few tips for summertime care of the systems:
Charge the microphone batteries fully (8-10 hours, remember to turn off the microphones) after the last day of use.
Disconnect the microphones from the charger.
You may wish to remove the batteries and store them with the microphone(s).
You may unplug the systems from the wall power outlet to conserve electricity.
Store systems and mics in a place where they will be safe from damage while summer projects/cleaning might take place.
The batteries will hold a residual charge over the summer, and will only need to be charged up overnight before the first day of use.
If there will be construction and/or renovation in a particular area or room, some type of bag or covering for the amplifier or the REDCAT will help protect the components.
At the beginning of the next school year:
Remove any type of bag or covering for the amplifier or the REDCAT, if used.
Plug the system back in (if it was unplugged over the summer).
Fully charge the batteries again (8-10 hours).
The system is now ready for use.