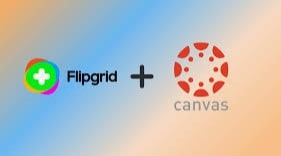 We continue to populate new apps in Clever https://clever.com/in/pccs and have recently added Flipgrid and Canva.
Flipgrid is a simple, free, and accessible video discussion experience for educators, learners and families. Create a  discussion Topic, share it with your learning community. Learners record and share short videos with you and your class. Richard Byrne has a getting-started-with-Flipgrid video to help teachers understand Flipgrid and what students see when they use the tool.  Visit admin.flipgrid.com to log in or create your 100% free educator account.
Note, students can be provisioned through Clever as well as interact with your Flipgrids within CANVAS. See this support page or PDF if interested in integrating Flipgrid into one or more of your Canvas courses.  The Canvas Community's also reviews the integration here. Note, in your Flipgrid Admin account (admin.flipgrid.com) within the Actions button to Edit Grid. Under section 2. Security and Privacy, you have the choice to enable or disable a Canvas Only option for grids.
Canva allows you and your students to create presentations, infographics, websites, reports, worksheets, posters, flyers and signage.  Teachers can sign up for a free, Premium Pro account by completing an application.