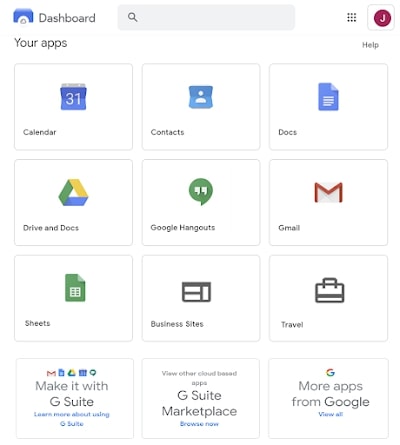 You can see a list of all the core G Suite apps enabled for our district in the User Dashboard at gsuite.google.com/dashboard. After a recent redesign, this page is now better-looking and easier to navigate, with a search bar that allows users to quickly find apps.
In the Your apps section, users can open their installed apps. G Suite core services are listed first, then other apps in alphabetical order. Users can't hide an app or change the order of apps.
The Approved apps section shows the G Suite Marketplace apps approved for all users to install themselves.
When a user clicks an approved app, they go to Marketplace. Then the user searches for the app in Marketplace and follows the installation steps.
Which should you use — Dashboard or App launcher?
Users can open their apps in either Dashboard or the App launcher  (in the top right of the user's window)

Users with many cloud apps may prefer Dashboard and wish to bookmark it.