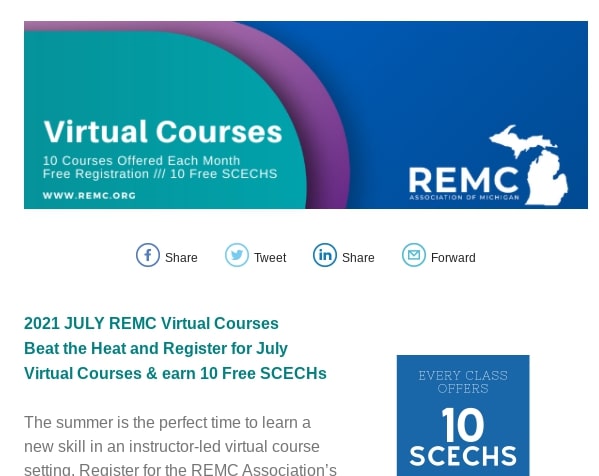 VIRTUAL COURSES, The REMC Virtual Courses offer an easy, convenient way for teachers to connect and collaborate during the summer from the convenience of their home. The Virtual Courses are free, offer free 10 SCECHs when completed, and are open to all Michigan school personnel. There are no registration or SCECH fees because REMC SAVE's vendor partners provide support for all REMC professional learning opportunities.
Register by Friday July 2nd – Classes Begin July 5th
If you have questions or need further assistance with your course registration, please contact Erin Rommeck, REMC Event Coordinator.
---
NEW WEB SERIES:
Each offering includes a robust toolkit of resources to support teacher planning and student learning. Participants may choose to attend one or more of the seven sessions. To earn SCECHs, participants must attend the live webinar and complete the assigned task following the webinar. Two (2) SCECHs per session.
Blended Learning Sessions:
Teaching Strategies for Virtual and Blended Learning Environments: Introduction
Session details and dates available:  https://bit.ly/3jDOBDO
Teaching Strategies for Virtual and Blended Learning: Help Students Demonstrate Mathematical Thinking K-2 
Session details and dates available: https://bit.ly/3zzgoh4
Teaching Strategies for Virtual and Blended Learning: Help Students Demonstrate Mathematical Thinking 3-6
Session details and dates available:  https://bit.ly/3pRD5bz
Teaching Strategies for Virtual and Blended Learning: Help Students Demonstrate Mathematical Thinking 7-12
Session details and dates available:  https://bit.ly/3vmZw9I
Teaching Strategies for Virtual and Blended Learning Language Arts: Growing Early Literacy Learners K-2
Session details and dates available: https://bit.ly/3xec3xy
Teaching Strategies for Virtual and Blended Learning Language Arts: Growing Literacy Learners 3-5
Session details and dates available:  https://bit.ly/3xx4suv
Teaching Strategies for Virtual and Blended Learning Language Arts: Growing Literacy Learners 6-12
Session details and dates available:  https://bit.ly/3gkyc7V
from this newsletter