ELLevation is a one stop shop for learning about the Multilingual Learners (aka English Learners) in your classroom. Teachers have access to 3 components of ELLevation:
ELLevation Platform:

You can access English Language testing history, proficiency level descriptors, and ELD support plans for the MLL/EL students in your classroom.
ELLevation Strategies:

Looking for ideas for how to meet the needs of learners in your classroom? ELLevation strategies offers strategies to support content and classroom teachers in reaching all students in their classroom. These strategies include resources, videos and differentiation suggestions for the students in your class based on their language proficiency.
Monitoring:

You can complete monitoring forms for Former ELs (FELs) in your classroom. The quick check in allows you to communicate any concerns you might have with students who have exited EL services but who continue to be monitored for 4 years after their exit date.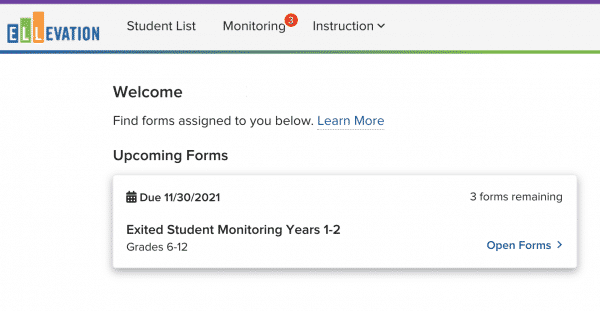 Interested in learning more? 
We have a 3 hour Canvas course available for SCHEH credit. Educators can also access the ELLevation Academy (click on the little graduation cap in the navigation bar once you log into your account) to learn how to navigate the site.
To get started, you'll need to create a password for your account HERE. Be sure to log in with your PCCSK12 email account.
Not seeing what you're expecting? Please complete this form and we'll help you get the access you need!
Any additional questions or support requests can be sent to Denyaz Farhat, K-12 MLL Instructional Coach.