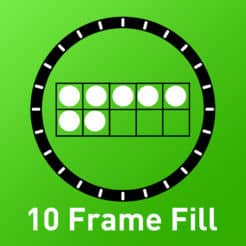 In A Nutshell
Provide practice for students with basic rote counting and number recognition.
Ideas
Use app to support number recognition
Allow students to try multiple numbers with multiple colors to help with engagement.
App can be used in either small group or in whole group to help support your classroom instruction.
Notable Feature
The app can be used with different themes to engage more learners.
What is the App?
"10 Frame Fill" provides children practice with recognizing additive "10 Families" (e.g., 1 and 9, 2 and 8, etc.). Set the 10 Frame to fill in sequence or randomly. Use contrasting color chips to fill the 10 frame as you determine the answer. Select to show a corresponding number sentence.
What is the value of the app?
Chips can be messy and pieces can get lost easily. With the app, students will never lose any pieces and can be differentiated with colors. Gives instant feedback to the student.